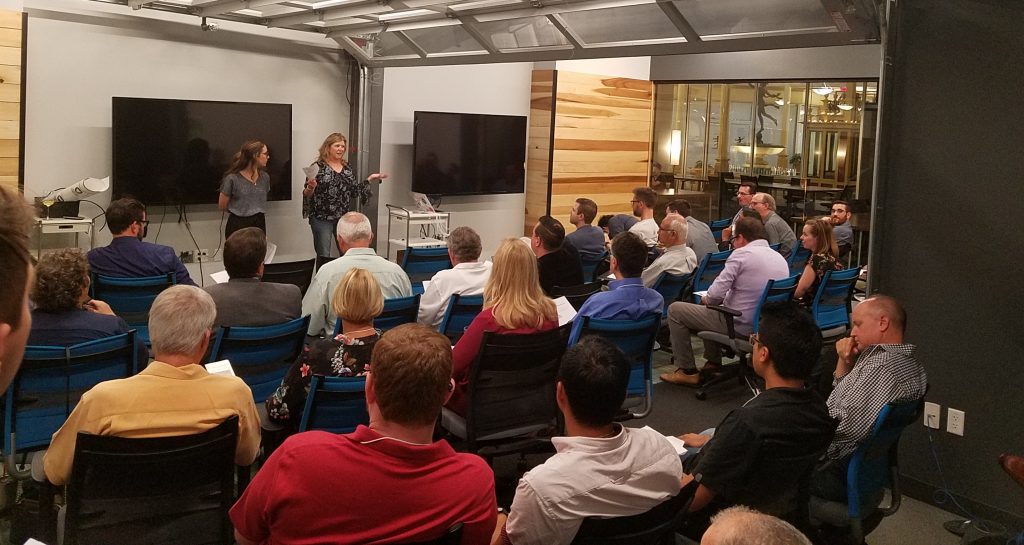 This past Wednesday I attended the StarterStudio mentor appreciation night. During this event, a new class of StarterStudio companies pitched their business to mentors that can offer assistance with fundraising (refining their pitch deck & biz plan), better understanding their customers, product improvement, marketing, refining their business model, sales / business development, etc.
I was impressed by the current status and potential of a number of the companies. I'm looking forward to seeing the new heights these startups will reach after going through the official accelerator program. I can say that I have already had conversations with several entrepreneurs that pitched since mentor night and have found them to be very coachable and eager to grow, which is promising.
The companies spanned two core levels – either Seed Stage, or Ideation.
I received this content from StarterStudio and with their permission am reposting. Keep an eye on these local companies!
Seed Stage Teams
GRD Biomechanics
wearable tech for knee disorders
LibLok
Automated adventure sport rental
Lucerna Studios
video gaming learning
Omnimodal
real-time public transit info/payment
Pangian
talent matching for remote work
PaperStac
investor marketplace for home loans
Taab (did not present)
travel as an employee benefit
Zupp
membership rewards for college
Ideation Stage Teams
BatterEASE
modular batteries
FamiLEAD
modern American family app
GoGo Power Juice
mobile battery pack
Grand Openings
business grand opening alerts
GratSee
restaurant job matching
Hchhkr
ridesharing platform
Vohesu
virtual health assistant
Waterpyng
hydration tracking
XMDocs (formerly Fletebase)
SaaS platform for int'l shippers
via StarterStudio team…
Last night marked the introduction of our new Starters In Residence (SIR) program that will bring experienced entrepreneurs with deep subject matter expertise in-house to meet with our Starter teams. This is our own brand of Entrepreneur In Residence that you'll find in other well known accelerators and incubators. SIRs will spend a day or more each week helping our teams grow their ideas and companies.
We are very excited to bring this powerhouse lineup to StarterStudio:
Lyn Berelsman
Lyn's technology career spans three-plus decades with a large focus on interactive technologies and computer mapping. A passionate community service volunteer and philanthropist, she continues her deep commitment to provide equal opportunities for under-served girls and women. After a long stint in executive roles at AOL, she retired in 2002 from her final role as CEO of AOL Australia's joint venture company with Bertelsmann AG. LinkedIn.
Luis Morales
A "graduate" of StarterStudio's Ideation Stage and Seed Stage Accelerators, Luis is the founder of Artistry.ai, an e-commerce optimization company leveraging artificial intelligence. He received his law degree from the University of Puerto Rico School of Law and was a JAG (Judge Advocate General) Officer in the U.S. Army for more than seven years. He applies his technology and programming expertise to his own business, as well as a mentor to many startup teams at StarterStudio. LinkedIn.
Scott Richey
An experienced finance and strategy pro, Scott is a CPA with deep experience in global sustainable businesses. He frequently consults with early-stage, high-growth companies and is also a Principal of All Star Materials, LLC, an aggregate and concrete business he refers to as a true "bricks and mortar" business. LinkedIn.
Steven Roth
Steven is both an entrepreneur and an advisor to startups with special expertise in product management and retail advertising. He spent nearly ten years with local success story Channel Intelligence that was sold to Google in 2013 for $125 million. Steven continued his executive career with Google after the sale where he led teams that took a $75 million line of business to $1 billion in revenues. LinkedIn.