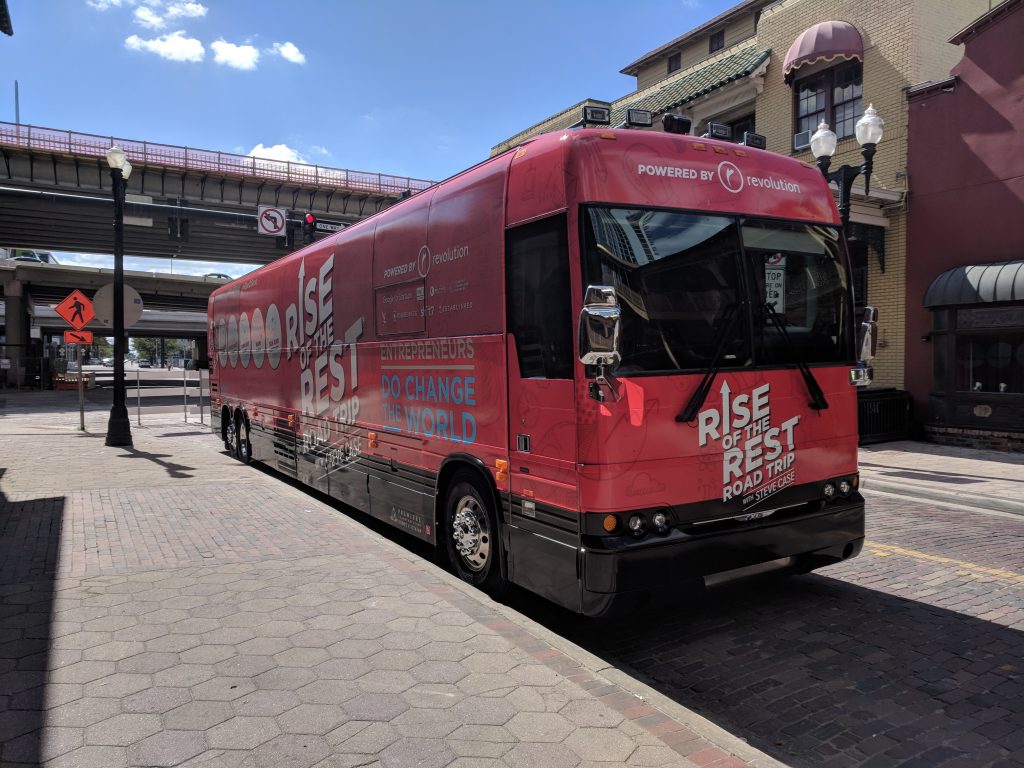 Steve Case, co-founder of AOL, is visiting cities around the country to find markets ripe with entrepreneurial talent that have been left behind by the greater tech investment community. At each stop local entrepreneurs pitch to win a $100k investment.
Case and his team visited Orlando as their first stop on their road trip to see what our startup scene had to offer.
Orlando had roughly 150 submissions, the most received from any city. Eight finalists were selected:
Rise of Rest Finalists
* AireHealth: Drug delivery for respiratory illnesses through a portable and connected nebulizer.
* Alertgy: The company has developed a blood-glucose monitor and alert system.
* Doghead Simulations: The company's Rumii platform is a social VR product that conducts virtual meetings in a simulated 3D environment.
* Edukate: Financial wellness platform has personalized guidance and benefits information.
* FleetZoo: A platform for vehicle fleet owners to track their assets.
* InitWeather: Using artificial intelligence, InitWeather has developed weather forecasting products for the energy and finance industries.
* Millebot: This company specializes in large-scale 3D printing for on-demand production.
* Pangian: An AI-powered social network for telecommuters.
The Rise of the Rest Pitches
The quality of the pitches were very strong. Each entrepreneur only had four minutes to pitch. Knowing from experience judging and winning pitch competitions, that is not an easy task. It is often much easier to give a 15 minute pitch than cover all of the relevant points in only 4 minutes! The finalists all did a great job – there was not a weak pitch in the bunch and the judges definitely had their work cut out for them!
The Rise of the Rest pitch winner!
Congrats to the winner of $100k AireHealth!
CEO quick pitch: AireHealth's connected-portable nebulizer is designed to help you be proactive with your therapy, even on the go. Our goal is to help you catch and prevent worsening symptoms.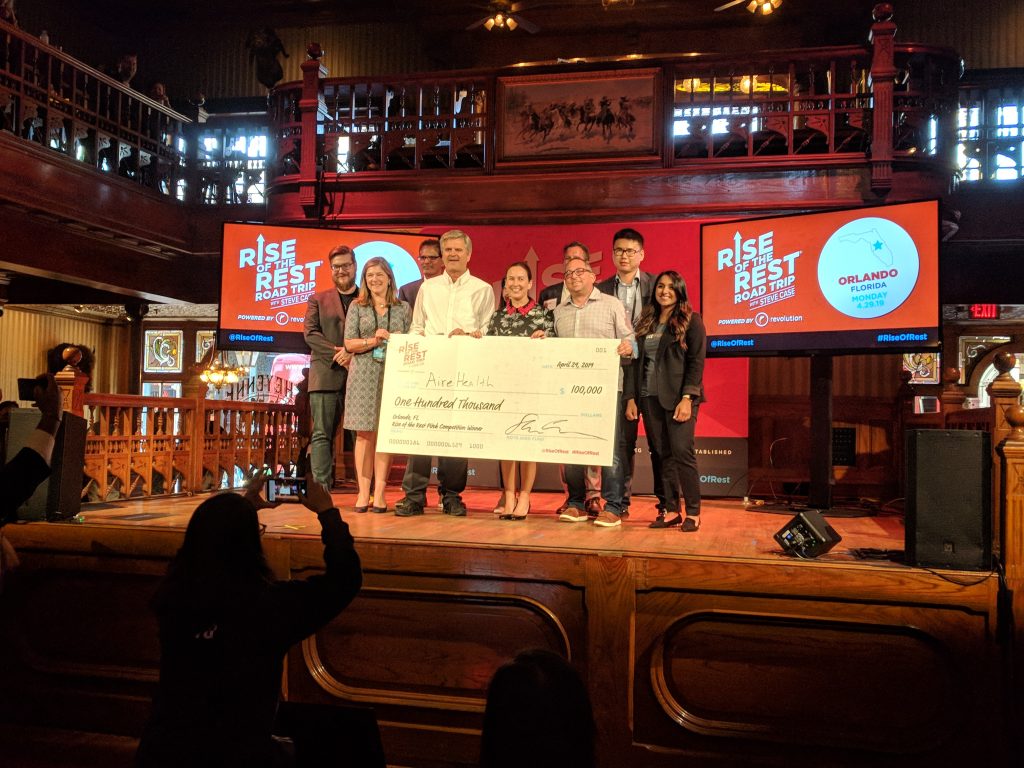 Final Thoughts
I'm happy that Orlando shared some of our finest emerging entrepreneurs and startups with Steve Case, and the Rise of the Rest crew.
Big props to all finalists! Everyone did a great job.
I was also very pleased with how our community came together for the Rise of the Rest event. Let's continue to build on this momentum and show the world that Orlando is a great place to start, scale and invest in startups.