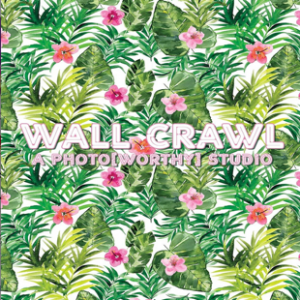 It's time to re-vamp your Instagram with some photo [worthy] shots! Orlando welcomes Wall Crawl, a new photo studio on Church Street. Offering more than 20 creative backdrops, Wall Crawl gives you the opportunity to snap the impeccably unique picture. There's plenty of space for you to take selfies, portraits, photos and more! Don't worry if you forget your props, they have a variety for you to play with as you walk around this imaginative photoset.
Owners, Jeanette and Joshua Johnson, wanted to make this a space inspiring for everyone and for any occasion. This spot isn't only for your favorite Instagram influencers, it can be used for holiday portraits, business professional headshots (with some flare), creative date nights, bachelorette parties, you name it. The owners plan to keep the backdrops always changing with new art from local Orlando artists.
The idea for Wall Crawl began when Fashion Blogger Jeanette Johnson collaborated with her husband and photographer, Joshua Johnson. In her interview with the Orlando Sentinel, Jeanette says, "About a year and a half ago, Joshua came up with the idea to open a photography studio. I asked to have some space in the back to create some funny backdrops for my blog. And it literally just snowballed from there." The couple has been planning for the studio perennially, always excited to see their visions come to life.
So how does it work? Well, the admission for the general public costs $25 per person. This includes 45 minutes to wander around and become inspired. Wall Crawl has Instagram "Husbands" available to help you get the perfect angels and curate the unique ideas you've conjured up. The pictures they help you capture can be purchased for $5 at the end of your experience. Nevertheless, it is definitely encouraged for you to snap selfies and even bring your own photographer.
The owners expressed they want this to be more than simply Instagram. They want to help inspire creativity in the community and offer resources for Orange County schools to teach students photography, editing, and blog writing. They also offer the studio as a private venue for people to host their own events. If you want to hear more about their vision, tune into our Podcast coming soon featuring Jeanette and Joshua.
For more information on Wall Crawl, stay tuned for our upcoming Podcast with Jeanette and Joshua Johnson. Pre-purchased tickets are required for admission, so please visit their website, wallcrawl.com for up-to-date time slots and ticket information.
Wall Crawl is at 1016 Church St. in Orlando.