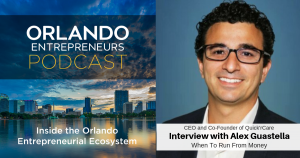 Quick'rCare is a discovery platform for healthcare services. It enables consumers to locate the nearest care center or hospitals available to get the care and help they need. The company's platform provides patients fast care service, improves patient experience, and offers online check-ins for the listed facilities in the network. By registering on the platform healthcare facilities can get access to many new patients on a daily basis.
Quick'rCare was founded by Raghu Dhulipala and Alex Guastella in 2016 in Orlando, Florida.
Alex Guastella: Alex is the founder of the company Quick'rCare, the interceptive digital platform that guides patients into immediate medical facilities. Prior to founding Quick'rCare he was instrumental in early growth with companies like ZocDoc, Medullan, TytoCare and many more. Alex has worked with companies like Aetna, Blue Cross Blue Shield, and HCA to build technologies that positively impact patients. His passion is to solve the deepest issues in current global healthcare systems.
When he is not in the boardroom, he spends his time with his wife Lynnann, two children, and their dog.
Links: