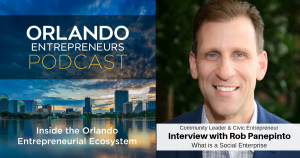 Rob Panepinto is an innovator who has always challenged the status quo of "good enough". Rob has helped Orange County become a hub for technology, entrepreneurship, and creativity. He is passionate about the positive impact businesses and business leaders drive for their communities and is an active "civic entrepreneur" serving on multiple civic and nonprofit boards.
Rob Panepinto is President of Florentine Strategies, which provides board support, strategic consulting, and investment capital for healthcare, social enterprise and technology companies. Rob is also the CEO of Entrepreneurs in Action, who manage a social venture fund that invests in local social enterprises, helping them create successful businesses and jobs while addressing community and global social needs.
Rob is a Founder and Board Chair of Orlando's Social Enterprise Accelerator, Rally, a partnership between the Central Florida Foundation, Rollins College, the City of Orlando, and other community partners. Rob is the current Chair of the Central Florida Foundation board, immediate past chair of Orlando, Inc. and is a Board Member member for the Orlando Economic Partnership. He also serves on the Board of Stater Studio, Rollins' Crummer Graduate School of Business Board of Overseers and its Rollins Center for Advanced Entrepreneurship. He has served on the Operations Committee of the Central Florida Expressway Authority. He is also a member of the Young Presidents Organization.
Rob was a 2018 candidate for Orange County Mayor.
Previously, Rob was part of the founding executive team for Connextions, helping them grow from a small manufacturing company to become an innovative healthcare technology and services company based here in Orlando. Connextions was sold to Optum in 2011.
Rob has been married to his wife Stacy for over 27 years and they have 2 daughters, Ali (17) and Samantha (15). They live in Winter Park.