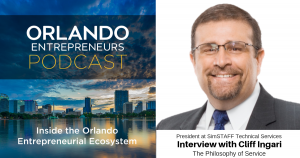 Cliff Ingari –PRESIDENT, SimSTAFF Technical Services
Cliff Ingari is President of SimSTAFF Technical Services, LLC based in Orlando, Florida.   He was the prior President of AVT Simulation where he brings more than 35 years of Military Simulation and Training experience and executive leadership to, both growing and scaling technology companies from startup to over $30M in annual revenues.
In August 2017, Cliff divested his interest in AVT Simulation, which he led with his former business partner, Robert Abascal for over 15 years.  During those 15 years, he helped create 2 other successful training companies, acquired the third company from a large defense contractor, and then sold that company to another large defense contractor after a business model transformation.
Prior to joining AVT in early 2002, Cliff held several Project Management positions in the training and simulation industry. He has been involved in the development of the F-14D Fighter Weapons School ("Top Gun") training program, the A-6E, the Apache Helicopter simulation program and the Close Combat Tactical Trainers (CCTT) program.
Cliff began his simulation career in 1983 serving in the United States Air Force where he trained F-4D and F-16 pilot's flight instruction and tactics.
His passion is aviation, leadership, mergers/acquisitions, business coaching and entrepreneurship where he finds opportunities to serve the local Orlando business and Academic communities with mentorship, coaching and guest speaking in the Central Florida area to help other entrepreneurs navigate the challenges and successes of entrepreneurship.  He has served as a Business Coach to numerous companies under the Rollins Business Accelerator (RBA) Program, and as a mentor to a group of aspiring entrepreneurs under a 10-week Startup Quest® Entrepreneurial Training Program, a Workforce Innovation Fund grant from the U.S. Department of Labor.  Cliff also participated in the Camaraderie Foundation's Mentor/Protégé program where he had the honor of mentoring a United States Marine Corp Veteran.
Cliff currently serves on the Embry-Riddle Aeronautical University, Industry Advisory Board, the University of Central Florida Business Incubator Veteran's Initiative Board and the Rollins College Leadership Center Business Advisory Board.
Cliff received both his Bachelor's Degree in Aeronautical Science (Cum Laude) and his Master's Degree in Business Administration (with distinction) from Embry-Riddle Aeronautical University in Daytona Beach, Florida.
Connect with Cliff on LinkedIn