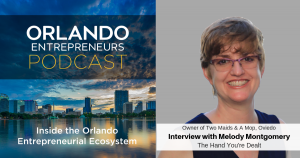 Coming from a 'nonlinear' career path, Melody found herself wanting to find purpose with her work, while balancing a stable family and life schedule.  Finding Two Maids & A Mop, founded by Ron Holt in 2003, gave Melody the perfect way to fulfill her entrepreneurial spirit, spend time with her family, and also help families in need of help with keeping their lives in order.  Two Maids & A Mop offers cleaning services on a subscription-based model utilizing different package levels, while also partnering with nonprofits like Cleaning For A Reason, which provides free housecleaning for cancer patients.
Melody decided to pursue her dream of becoming a business owner after her teenage daughter recited her very own teachings of "We don't just do the easy things."  With this endeavor, Melody was also given the challenge of persevering through her recent diagnosis of breast cancer. She recalls her continuing efforts of maintaining optimism and learning to accept her own faults, which lead to her success as a leader.  Melody believes that everything happens for a reason, and even though sometimes she thinks she was 'dealt a bad hand', she continually makes the effort to not define herself by her diagnosis. With this perspective shift on life, she holds firm in the belief that we all have a choice when it comes to how we spend our time and seeks to empower those who are stuck thinking they cannot pursue their dreams.
Two Maids & A Mop has been featured in media such as Entrepreneur Magazine, Better Homes & Garden, Success Magazine, CNN Money, Yahoo News, and even CNBC.  Based out of Birmingham, Alabama, this brand now we serve 60 markets across the country, following the notion that doing the right thing will keep them competitive in the service-based industry.  To learn more about Two Maids & A Mop Oviedo, visit https://twomaidsoviedo.com/about_us/.
Company email: oviedo@ineedamaid.com
Seminole Country: www.twomaidsoviedo.com
Orange county: www.twomaidsorlando.com
LinkedIn: https://www.linkedin.com/in/melodymontgomery/
Company phone: (407) 603-8001