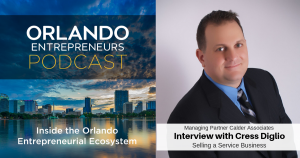 Cress V. Diglio has been a Business Intermediary since 1999. Despite being one of the youngest Brokers in the industry at 28 years old, Cress achieved immediate success. Since that time he has been involved in over 500 successful transactions. In 2019 Cress celebrates his 20th anniversary in Business Brokerage.
In 2010-2011 Cress was recognized for having the largest closed transaction in the entire Sunbelt Franchise worldwide. The Business Brokers of Florida recognized Cress as Central Florida's Top Dollar Producer in 2011. Cress joined Transworld Business Advisors as a Regional Vice President in 2013. During his tenure at Transworld Cress was a member of their prestigious President's Club from 2013-2017.  In June of 2018 Cress joined Calder Associates, a highly successful M&A Firm with offices in the N.E. USA and Australia. Cress is Calder's Associates Managing Partner and a member of their Board of Directors.
Cress is well respected in the Business Broker Community. He has been an active member of the International Business Brokers Association (IBBA) since 2003. Cress is a Certified Business Intermediary (CBI) , Merger & Acquisition Master Intermediary (M&AMI), a graduate of the IBBA's Train the Trainer and a Certified Instructor teaching classes on franchising, pricing businesses and analyzing and recasting financial statements. He served 4 years as head of the CBI exam and 2 years as the IBBA Education Chair. In 2013 Cress was presented with the honor of Fellow of the IBBA. In 2015 Cress received the highest honor in his profession when he was named Chairman of the IBBA. Cress and his father hold the distinction of being the only Father and Son to hold the position of IBBA Chairman. 
Cress has won numerous awards and accolades within the Business Brokerage profession including; 2017 IBBA Chairman Award, 2017 IBBA Deal Maker Award, 2017 IBBA Outstanding Producer Award and 2018 Lifetime CBI Certification Award.
Cress is active in his local community. He proudly serves on City of Life Foundations Board of Directors. Cress is a founding member of the Citrus Club's Young Executive Board. His influence on the Board led to the formation of the Philanthropy Committee. Cress is a co-founder of The Diamonds are Forever Casino Night Extravaganza benefiting Central Florida charities. Cress served on the Citrus Club's Board of Governors for six years. In 2009 Cress was recognized by the Orlando Business Journal as one of Orlando's top 40 under forty.
https://floridacertifiedbusinessbroker.com/
https://www.calderassociates.com/