About:
Suneera Madhani, Fattmerchant's Founder & Chief Executive Officer, is a payments and technology innovator who has catapulted her business idea from startup to processing over 2 Billion in payments — disrupting the payments ecosystem as we know it.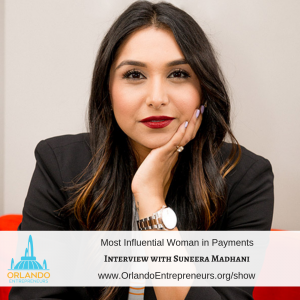 Fattmerchant has revolutionized the payments landscape — challenging the status quo with its transparent, subscription-based model and unifying the payments experience through integrated processing platform solution called Omni.
Under Suneera's strategic leadership, Fattmerchant has reached record high numbers since its existence; attaining triple-digit growth year after year, scaling operations in multiple cities across the United States, raising 10M in venture capital, and employing close to 100 individuals.
A visionary leader, Suneera is pivotal in creating value for her stakeholders, members, and employees. Her focused execution, passion, and unwavering determination has been well-integrated into the company's mission and product resulting in a thriving culture that fosters purposefulness, growth, and inclusion.
She's been recognized as 2018 The Most Influential Woman in Payments (Payment Source), CEO of the Year (Orlando Business Journal), Top 40 Under 40 (Orlando Business Journal), Young Entrepreneur of the Year (IACC), 2015's Woman of Distinction by the Girl Scouts of Orange County and as a Rising Star for her proven leadership and commitment to the community.
Suneera is a regular contributor to the Forbes Young Entrepreneur Council and has been featured in publications such as Forbes, Fast Company, Yahoo Business, Tech Crunch, Huffington Post, and the Orlando Business Journal.
In addition, Fattmerchant has won a number of awards, including the 2016 Startup of the Year at the Bright House Regional Business Awards, Orlando Business Journal's 2016/2017 Best Places to Work, and Orlando Sentinel's 2017 Top 100 Companies among others.
How to connect with Suneera:
https://www.linkedin.com/in/suneeramadhani/
https://fattmerchant.com/
https://www.instagram.com/mombossblog/