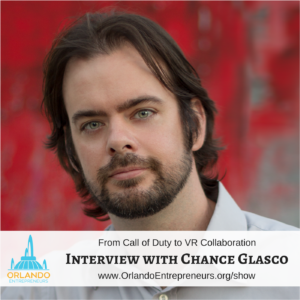 About:
Chance had his start in the game industry by working on Medal of Honor: Allied Assault. After a successful first game, he left to become a co-founder of Infinity Ward, the original studio behind the Call of Duty franchise. Other credits include Call of Duty 2, the entire Modern Warfare series and Ghosts. Chance's titles have sold over 90 million copies and generated over 4 billion dollars in revenue. In addition to working with art and animation in games, Chance has a background in international media relations and has been featured as a guest speaker around the world.
Doghead Simulations: Featuring rumii "remote teams run on rumii"
rumii is a social-virtual reality space that enables people to collaborate and communicate in one room from anywhere in the world – as though they're all in the same physical location. Step into your virtual reality office or classroom. rumii can be used across virtual reality headsets and desktops for collaboration, classes and meetings. Great for remote teams, education and digital nomads.
I, Josh, visited the Doghead Simulations and got to experience rumii, the virtual reality world where I was able to enter a lecture hall where the lesson was about the human heart.  I entered the virtual room and standing in front of me was a 12-foot beating heart that I would walk around and see every valve, vein, and arteries.  Imagine learning about anatomy, math, or even participate in history as a student to get to experience it virtually.
This was a lot of fun to see the applications for education, to feel like you are present with your remote team with a virtual meeting, or just to explore what an x-wing looks like up close (yup I did that too).
Here are some links to connect with Chance and learn more about these projects:
http://www.dogheadsimulations.com/
https://www.linkedin.com/in/chance-glasco-677a57/