Adopted at birth by Cuban immigrants, Barbara was raised in Miami and studied Music Theater at New World School of the Arts. She earned a Bachelor's and a Master's degree in Economics from FSU. After almost 2 decades in finance, she moved to Orlando and yearned for more creativity. Barbara grew up eating Cuban food with a shovel, so when she sought to infuse purpose and heart into her work, her company was born.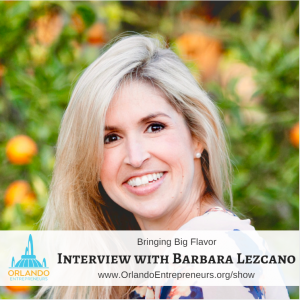 Barbara founded Sweet Babs, a line of Cuban BBQ sauces that are all-natural, vegan and gluten-free, based on her Cuban family's classic recipes. By combining quality ingredients to create big flavor, Sweet Babs empowers you to bring love to the table, spend less time in the kitchen, and more time with your loved ones. All while cutting calories, carbs and sugar. They are available at retail stores throughout Florida and online for nationwide shipping.
Barbara is active in her community, and on the Board of Directors for Harbor House of Central Florida, an organization that works to eliminate domestic abuse. She is a champion of women in leadership and promotes empowerment of women in all walks of life. She believes women supporting each other is a force to be reckoned with, and in leading by example. That begins at home, with her 7-year-old daughter, who has already deemed herself an artist. Lover of living-out-loud, music, and ice cream, Barbara is a lifelong musician, a freelance writer and mom to a sprightly senior Malti-poo.
Here is how to connect with Barbara: 
https://www.linkedin.com/in/barbara-lezcano-30278b48/
https://www.facebook.com/sweetbabsbrands/
https://www.instagram.com/sweetbabssauces/
https://www.instagram.com/bdulcel/