Office Furniture Outlet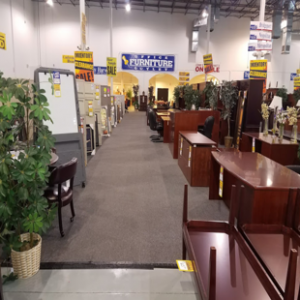 With more than 23 years of experience in office furniture, we help our customers save money with new and used blended solutions. In our 50,000 square feet showroom, you will find hundreds of cubicles, chairs, desks, filing cabinets, office suites, and accessories ready to go.
Whether you are outfitting a single office or redoing your corporate headquarters, we can help you design and set up your office with a great look and proper design. Now you can allow maximum productivity and employee participation to become a reality at your workplace.
We also offer Green Credits, a way of stopping office furniture from ending up in the landfill, helping the environment by reducing potential greenhouse gases and helping the economy as well. There are a lot of companies that would benefit from getting access to used office furniture rather than going out and buying new.  We will assess the value of your used furniture and give you green credits for it which you can spend on purchases with us. You'll be able to restock your office with our high quality refurbished items.
Find more about us at ofo-orlando.com.