Take Your Life & Business To The Next Level with
Founders Rising.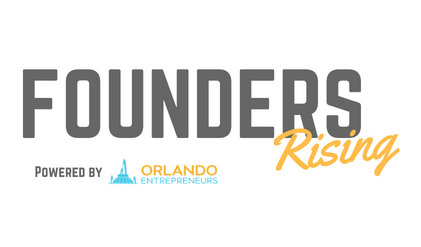 Edison, Eisenhower, Ford, Wrigley, Roosevelt, Schwab, Disney, Gates, Buffet, Dell Carnegie… what do these wealthy men of influence have in common? They understood the power of MM and committed to their mastermind groups because it took them to greater levels of success than they could have achieved alone.
Imagine being a part of a group of people who are all committed to consciously improving their lives and manifesting their dreams. This is where individuals each bring unique perspectives, resources, skills and contacts to the group. Most importantly, each one is committed to actively working towards their own goals – and supporting the other members in achieving theirs. Masterminds are a true win/win opportunity.
Orlando Entrepreneurs is pleased to offer our Founders Rising mastermind program for growth minded local entrepreneurs.
Are you a ready take your business to new heights? 
Apply today

.

The 8-10 local entrepreneurs selected for the first Founders Rising group will commit to working together over 9 months along side Krista Inochovsky, an experienced Mastermind facilitator, to accelerate each member's business and life.

Founders Rising creates a confidential space for founders to share the wins, the challenges and the plans for growth with the group to receive immediate feedback, advice and resources to take action month after month.
PROMISE OF THE GROUP
Founder Rising group theme and promise is three-fold:
To individually up-level each member in clarifying and achieving their primary objective (self defined).

To collectively up-level Orlando as a city known on the national and international scale as a place for entrepreneurs to thrive.

To support each member in consciously creating a life and business in harmony to support vitality, health, loving relationships, contribution and fulfillment.
THIS IS NOT FOR YOU IF:
You believe in a zero sum game
You have nothing else to learn
You are closed minded to outside perspectives and do not invite feedback from others
You prefer doing business around a conference table in a suit the old fashioned way
You are not vulnerable to share mistakes, challenges and ask for help
You are not 100% committed to showing up for the group in both attendance and energy
You do not own a business based in Central Florida
THIS IS FOR YOU IF:
You embrace collaboration, empathy, and abundance mindset
You are growth minded and ready to scale your business to new heights.
You believe "we are better together"
You prefer doing business in a relaxed, intimate environment that may or may involve a glass of scotch
You value the experience and insights of others
You value relationships and the hustle those people put into changing the world
You know you can achieve your desired success and a mastermind group will help you get there faster and more fun
Founders Rising Mastermind Program Overview
1 Commitment Day: Rise Together
7 Monthly In-person Mastermind meetings
7 Monthly Virtual meetings for accountability and mindset coaching
1 Mastermind Retreat 2-day *
Private Facebook group exclusive for members
Founders' Favs Cocktail Party: Each member may invite 3 influencers to join your inner circle for the evening. Expand your influence, network and exposure by being introduced to the other member's favorite business leaders or entrepreneurs.
Annual investment requirements: $7,500 $5,000 (space is limited. Only 6 spots left. Financing options available upon request.)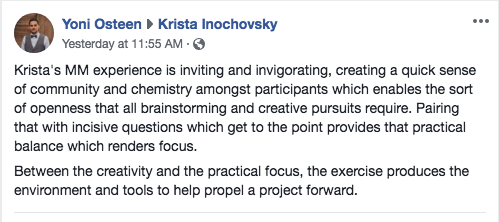 But that's not all.
Each Founders Rising participant will also get these additional perks.
Bonuses for Founders Rising members:
Guest spot on Orlando Entrepreneurs Podcast hosted by Josh Wilson
Guest spot on Orlando Entrepreneurs Facebook Live hosted by Krista Inochovsky
Meditation Master Class: invite your family and staff to learn with you the art mindfulness and visualization.
* Retreat location will be decided my members. Accommodations are an additional cost.
The Founder Rising mastermind programs are led by Krista Inochovsky and Dustin Moura. Krista Inochovsky is an expert mastermind facilitator that frequently travels across the country training others how to properly start and manage masterminds for maximum impact. Dustin Moura is a successful entrepreneur, community builder and experienced mastermind participant. Both are committed to helping entrepreneurs reach their personal and professional potential by tapping into the wisdom of their peers.
---
Founders Rising Rules of Engagement:
CONFIDENTIALITY
 All information shared during Founder Rising is strictly confidential and intended for member use only. Sharing confidential information (other than with your staff for use inside your own business) is strictly prohibited. 
Any member who shares confidential meeting information or details about a fellow member's business will be terminated and their dues WILL NOT be refunded.
EMPLOYEES
Founder Rising is for growth minded owners, founders and CEOs of Central Florida businesses. 
You cannot send a lower-level employee in your place who doesn't fit into one of those five categories. This group is designed for top-level executives and business owners ONLY! The group builds trust and rapport with individuals not the company. Membership is not interchangeable.
Employees are invited to attend MEDITATION MASTER CLASS (program bonus).
JOINT VENTURES
 Business partnerships between members is encouraged, but duplication of other members' complete business models without permission will result in your membership being terminated. 
We're very serious about this. The group does not take kindly to theft (which is what this is), and we will do what we have to do to protect our members and the sanctity of this group.
Want to be considered for

Founders Rising?
Membership decisions are made by the mastermind director and advisers on a case-by-case basis based on five major criteria:
What you are able and willing to contribute to the group.
The ability of the business to demonstrate product/market fit and a unique value proposition.
Your overall personality match to the group.
A minimum of three full time employees excluding the founder.
Recommendations by 3 entrepreneurs or business leaders.
To apply fill out the form below. There is no obligation to join if you apply. If you are accepted, you will be contacted by someone from our office within a few business days.
Application